About Titanium - Continued...
Finish, Look and Feel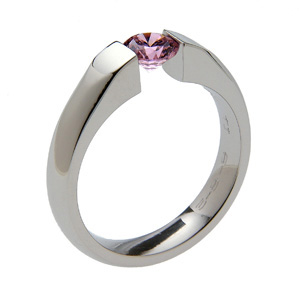 Titanium is most commonly encountered in sporty, matte grayish finishes...the stealthy look. In jewelry, however, Titanium finishes include the polished, satin (or "brushed", matte), frost (matte surface of sparkling etched dots) and anodized finish. When polished it has its special metallic look, not as white as silver but, rather closer to the platinum and surgical steel look, albeit somewhat cooler. Colorful finishes (in almost every color of the rainbow) may be created through anodizing. In this process, the micronic oxide layer that typically envelopes all metals is electrically thickened (ever so slightly) creating different refractive effects which the human eye perceives as different colors. Controls through the application of electric currents in different intensities and duration bring about the different resulting colors, across the rainbow spectrum. No dye or pigment need be used nor added. Colorization of Titanium through anodizing is very prone to scratch damage and is not recommended in exposed parts of Titanium accessories. Titanium is highly dent & bend resistant, and its scratch resistance is best displayed in the polished and high polish finish. Its level of hardness, incidentally, on the Mohs scale, is the upwards of 6.5, many times more so than what is the case in what is commonly referred to as "precious metals". In other words, it maintains its shape and finish. Scratches that may occur over long use may be easily polished off. Titanium, it is cool to the touch, and cool to look at.

The Grades

Grading the grades... In the process of searching for yet hardier metals for the aerodynamic industries, an alloy known as Titanium 6Al/4V (an alloy consisting of 90% titanium, 6% aluminum and 4% vanadium) has been developed. While the ordinary 'commercial grade titanium' or 'pure titanium' has the strength of 25,000 to 90,000 psi (depending on the grade), Titanium 6Al/4V has an inherent strength twice to eight times (the upwards of 150,000psi) that of commercial grade titanium. All grades are practically of very high level of dent & bend and damage resistance (for most practical purposes). Commercial, unalloyed grades of titanium more than suffice for the manufacturing of hardy jewelry capable of taking, for example, the beating and endurance test of sports activities and challenges. We offer you, however, to enjoy "the best of both worlds": you may opt for the 'purity' of the unalloyed commercial Titanium of grades 2 (98.825% pure titanium--tougher than Grade I Titanium--the upwards of 90,000psi or 4-5 times the strength of the purest, grade I Titanium) but for those who like their jewelry to be of the toughest metal on earth, most of our jewelry items are offered also in Aircraft Grade 6/4, and now even in the very toughest alloy on earth: Titanium 6/6/2 (84% Titanium, 6% Aluminum, 6% Vanadium and 2% Tin)-- sporting the amazing tensile strength of over 180,000 psi and 18% higher resistance to denting and bending (due its higher hardness), and improved springiness for tension settings.

Notice: Despite claims to the contrary by some manufacturers, presumably of limited access to the harder to find Ti-6/4 and Ti-6/6/2, those grades are undeniably, and metallurgically proven to be of substantially higher tensile strength and resistance, require longer machining, finishing and polishing, exert faster wear on tools and work accessories, and are most definitely costlier. We will NOT, however,manufacture our tension settings in any weaker grade. In ordinary bands, the harder grades (6/4, 6/6/2) will be less prone to dent, bend or otherwise damage; But we do have many satisfied customers who have purchased their non-tension rings and bands in Commercial Unalloyed Titanium.


Our Titanium warrantees cannot be matched by any warranties extended by other, 'precious-metals-jewelers' for their jewelry items... it is as unbeatable as the subject matter... How becoming: Diamonds & Titanium -- the two forever-s...

Customized designs will be studied by our engaged craftspersons

Your e-mailed commentary will be attentively read...

Read about:
Titanium, General
Titanium's History
Its Uses
Titanium-ribbon 'fastened' new Guggenheim-NY plans!