Mokume Gane is an ancient Japanese metalsmithing art, used at its early development in the production of Samurai swords, as well as, out of Japan, in the production of the notorious "Damascus Swords". In Japanese, Mokume-Gane means "wood grain metal". Alternating layers of metal are diffusion bonded into a single billet. In the finishing process the various layers are made to show and display fabulous patterns depending on the number of layers, their order, metal selection and arrangement within each layer. Absolute Titanium Design is proud to offer you titanium rings with this delicate exotic and ancient art-form inlays - all hand crafted.

Your choice consists of: Chaos, Ripple, Scale, Labyrinth, Puddles and Leopard.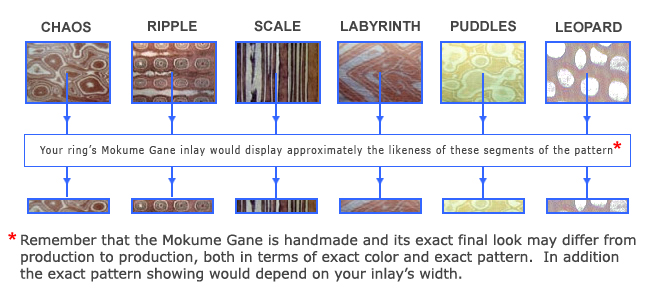 Sterling Silver/Copper Mokume-Gane (Our Chaos, Scale, Leapord and Ripple Mokume Gane patterns) Three classic patterns produced by bumping up or gouging the surface of a flat billet and then filed to reveal the pattern. Each piece is individually rolled and hand worked. No two are exactly alike! Ripple and Chaos patterns are twenty-one layers with heavy sterling silver backs. The ladder pattern is twenty-seven layers.

Sterling Silver/Copper/Shibuichi Mokume-Gane (Our Labyrinth Mokume-Gane pattern) Labyrinth: Five alternating layers (4 colors!) on a heavy sterling silver back.

22K Gold/Sterling Silver Random Mokume-Gane (Our Puddles Mokume Gane pattern) A delicate and exquisite Japanese traditional Mokume-Gane classic. Very light and subtle. Twenty-seven(27) layers of alternating gold(42%) and sterling(58%) ending with a sterling back(See the pattern above). The silver is twice as thick as the gold. $100 extra charge applies.

Shakudo/Sterling Silver Bi-Metal (Our Leopard Mokume-Gane pattern) A random pattern of dots has been incised through the Shakudo (dark pickled alloy consisting mainly of copper and gold) to reveal the silver backing.

Important Note: Since Mokume-Gane inlays are all handmade and unpredictable in their fine detail, the connecting point of the inlay may show a slight disruption of the repetitive motiff and/or a fine connection area, artfully belnding to our craftsmen's best of ability.